Knowledge & Insights
Top Ten Cities in Europe to Host Your Next Event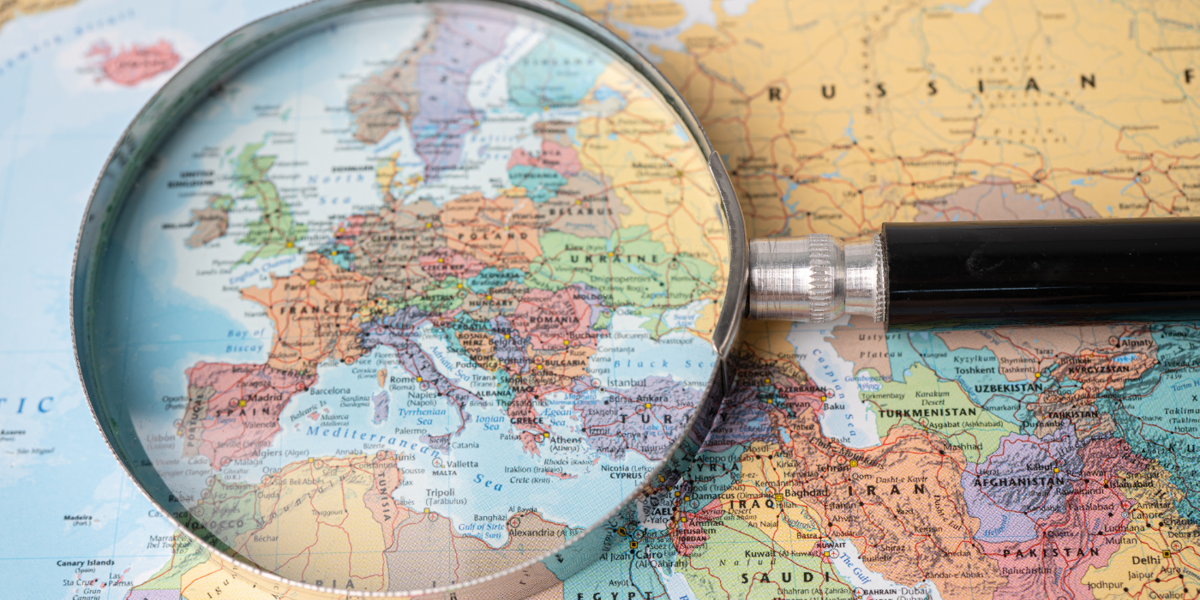 There is a lot to take into account when you're thinking about where to host an event. Location is always a key consideration. When researching locations and venues, things to ponder include: transport connections, getting around, affordability, accommodation, and sustainability.
Over the last 22 years we have organised lots of events all over the world. We know from experience how many decisions you as an event organiser must make, so we have written this guide to help you with the one that is crucial to making your event a success: which location is best?
Our Criteria
We researched the best cities in Europe, rating them on:
Connectivity and transportation infrastructure.
Best quality hotels, based on ratings and reviews from travellers.
Business travel and events, based on factors such as infrastructure, accessibility, and facilities.
These Top 10 cities offer excellent facilities for business travel and events, with modern conference centres, exhibition spaces, and meeting facilities, as well as high-quality infrastructure and excellent transport links.
1. London, United Kingdom
Top of our list, London is a global business hub and a major destination for business travel and events, with excellent infrastructure and facilities. It offers first-class facilities for business travel and events, with modern conference centres such as the Excel and O2, exhibition spaces, and meeting facilities.
A major transportation hub, London is served by six international airports and a well-connected public transportation system, including the extensive London Underground network. The Elizabeth Line train service opened in 2022 and now crosses the city, connecting Heathrow Airport, the West End, Liverpool Street, and Canary Wharf.
London benefits from a wide range of hotels, from classic and elegant properties like The Savoy and The Dorchester, to contemporary and stylish options such as The Ned and The Hoxton.
2. Paris, France
The City of Lights, Paris is a global hub for gastronomy, fashion, art, and culture. It is extremely well-connected, with three international airports and a high-speed train network that links the city to the rest of France and beyond.
The Metro is the cheapest and easiest way to get around Paris. The extensive public transportation network also includes buses, trams, trains, and night buses.
Known for its luxury hotels, Paris has some of the most highly rated hotels in Europe, including the Ritz Paris and the Four Seasons Hotel George V.
A leading destination for business travel and events, Paris offers a range of conference centres and exhibition spaces including the Palais du Congres du Paris, which are served by the affordable Metro system.
3. Amsterdam, Netherlands
Amsterdam is a popular destination for tourists and business travellers alike, with an international airport and high-speed rail services from Paris, London, Berlin, and Brussels. The Port of Amsterdam ranks fourth in Europe with busy passenger ferry services.
Once in Amsterdam, visitors benefit from an extensive public transportation network of boats, trams, buses, and metro lines. The city has also invested in sustainable modes of transport, with lots of shared mobility options available, such as cargo bikes and mopeds.
Amsterdam has many unique and stylish hotels, such as the Pulitzer Amsterdam and the Conservatorium Hotel, which offer a blend of modern and classic design.
4. Frankfurt, Germany
Frankfurt is a major financial hub in Germany and home to the European Central Bank. It is a major transportation hub, served by one of the largest airports in Europe and a well-connected rail network.
The city has an excellent transportation network including a metro system, trams, trains, and taxis.
Frankfurt is a popular destination for business travel and events, thanks to its extensive range of conference facilities, including Messe Frankfurt. One of the largest and oldest trade fairgrounds in the world, it covers a total of 366,637 sq. metres exhibition space, as well as another 96,000 sq. metres outdoor exhibition area.
5. Barcelona, Spain
The capital of Catalonia and Spain's second-most populous city, Barcelona is served by a busy international airport. It is an important transport hub, with a high-speed rail network connecting it with major Spanish and French cities.
Visitors benefit from an extensive local public transport network that includes a metro system, regional rail network, buses, funiculars, and aerial cable cars.
Barcelona has an enviable variety of high-end hotels, such as the Mandarin Oriental Barcelona and the Hotel Arts Barcelona, which offer stunning views and top-notch amenities.
It is a dynamic city with excellent facilities for business events, including a modern convention centre, the CCIB, located in the flourishing business and innovation district known as 22@Barcelona.
6. Vienna, Austria
Situated on the River Danube, Vienna is home to UNOV, one of the four major office sites of the United Nations. It's served by a busy international airport and an extensive rail network that links it with neighbouring countries and beyond.
Vienna also benefits from a low-cost, highly efficient public transport system including buses, trams, and metro system.
Vienna has a rich history of culture and art, with famous residents including Mozart and Sigmund Freud. The hotels reflect this, with many elegant and sophisticated options, including the Hotel Sacher Wien and the Park Hyatt Vienna.
Thanks to its excellent transport links, Vienna is a major destination for business travel and events. It boasts a range of modern conference facilities including the Messe Wien Exhibition and Congress Centre.
7. Florence, Italy
Located in Central Italy, Florence is served by two international airports. The main train station in the middle of the city is one of the busiest in Italy, offering international services and daily high-speed trains to Rome, Milan, Turin, and Naples.
In the Middle Ages and Renaissance, Florence was one of the wealthiest cities in the world. A major financial, artistic, and commercial hub, its famous residents included Michelangelo, Machiavelli, and the powerful Medici family.
Florence made it into our Top 10 largely because its array of top-class hotels garner rave reviews from business travellers. It has many historic and charming hotels, such as the Belmond Villa San Michele and the St Regis Florence, which offer luxurious accommodation and exceptional service.
8. Madrid, Spain
The capital of Spain, Madrid is one of the best-connected cities in Europe. It is home to one of the largest airports in Europe, handling more than 42 million international passengers per year.
It is also the focal point of one of the world's largest high-speed rail networks, connecting Madrid to 17 regional capitals as well as neighbouring countries. Getting around Madrid is easy thanks to the extensive and efficient metro system. There is also a large bus network that operates 24 hours a day and commuter rail services.
The range of modern and well-equipped event venues in Madrid include the Palacio Municipal de Congresos and the Marriott Auditorium.
9. Dublin, Republic of Ireland
The largest city in the Republic of Ireland, Dublin is served by a modern international airport with a growing focus on transatlantic services. The intercity rail network connects Dublin with cities around the Republic and in Northern Ireland. It is also connected to the UK and Europe with ferry routes from the ports of Dublin and Rosslare.
Dublin is an energetic, accessible, compact city that is easy to get around. The well-developed and affordable public transportation system includes buses, trains, and trams.
The city benefits from a high-quality infrastructure and a good range of conference centres and meeting spaces. This includes the Convention Centre Dublin (CCD) on the banks of the River Liffey.
10. Zurich, Switzerland
The largest city in Switzerland, Zurich is a powerful financial centre and economic hub. Ten of the country's 50 largest companies have their headquarters here. It is well-connected, with an international airport and a high-speed rail link to Germany and European cities including Paris, Milan, Bologna, Vienna, and Budapest.
Zurich's comprehensive and popular public transportation network includes a free bicycle rental scheme, trains, trams, buses, funicular, and cable car. The ZSG ferry service also operates passenger boats connecting the city with towns along the River Limmat and Lake Zurich.
Zurich has a range of high-end hotels, including the Dolder Grand Hotel and Spa and the Baur au Lac, which offer exceptional service and stunning views of the city and the Alps.
In Conclusion
We know that these cities all have a lot to offer in terms of accessibility, accommodation, and infrastructure. Which one is ultimately best for your event will depend on considerations such as budget, where the attendees are based, how they will travel to the event, language(s) spoken, and how many attendees are expected.
To find out more about how Outsourced Events can help you plan your event, get in touch with us today on +44 (0)330 460 6007 or email us.
Our Latest Knowledge & Insights