Knowledge & Insights
The Power of Podcasts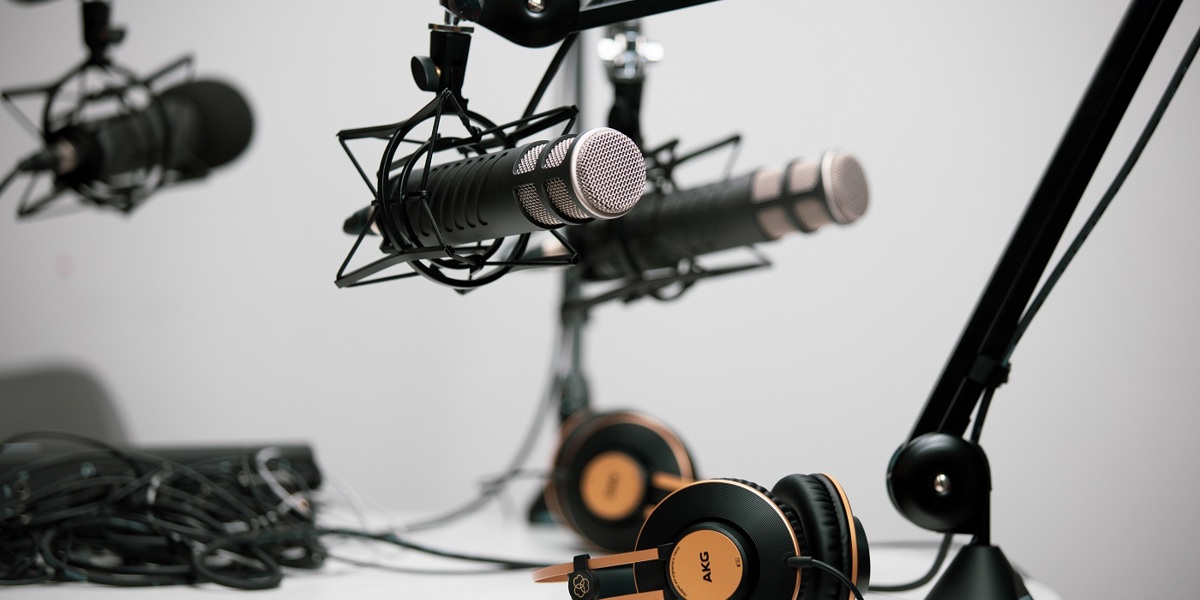 With the rise of audio streaming and on-demand content, podcasts have become an increasingly popular medium for consumers to stay informed and entertained. But beyond their entertainment value, podcasts are a powerful tool for marketers to connect with their audience in a more intimate and engaging way.
In this article, we'll dive into the reasons behind the explosive growth of podcasts and examine how they can be leveraged as a key component of any effective marketing strategy.
Announcing…
They say practice what you preach, and we thoroughly believe that the immense power of podcasts cannot be underestimated. It is with this sentiment we are very proud to announce that we will be embarking on our own series…Outsourced Explores!
Produced in partnership with our sister company Outsourced Engagement, Outsourced Explores will offer insight, expert opinion and knowledge on a broad range of hot industry topics from the Outsourced team and a selection of expert guests. 
Keep your eyes on our socials to find out more information as we announce our host, expert guests, and episode themes.
Are Podcasts Really That Popular?
To see the popularity of podcasts you really don't need to look much further than asking yourself and your friends, "who listens to podcasts and how many?"
Personally, I listen to (minimum) eight a week!
At the end of October, Insider Intelligence reported that in 2023 44% of US internet users will listen to a podcast at least once per month.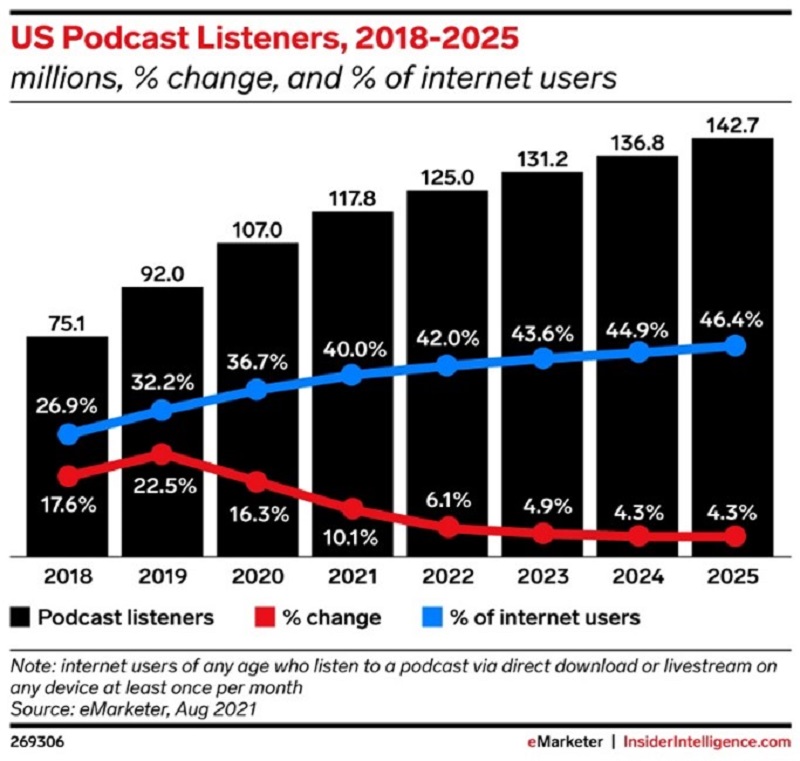 Podcasts as a cultural phenomenon and their popularity is exemplified again in the recent Hulu and Disney+ series, "Only Murders in the Building" which is based around an unlikely group producing a true crime podcast.
Why Are Podcasts So Popular?
So, after existing for around two decades – what has happened in the last five years to boost their popularity? The popularity of podcasts can be attributed to many factors. Here are just a few of the most important:
Listening proclivity and accessibility
Over the past decade more and more streaming applications have popped up. This has been a huge contributor to the growth that podcasts have seen, especially with free platforms, when a product is easier to access it can target larger numbers.
One of the biggest joys of listening to a podcast is that you can listen pretty much anywhere, at any time. Before the pandemic the most popular time to listen to podcasts was during the morning and evening commute; with the return to offices, we wholly expect this trend to return.
Covid's impact
We spent more time at home, and we had much more free time…or so we thought.
We found ourselves busier with our housemates (families or friends), picking up DIY projects, baking banana bread, and doing things we just "never quite got around to doing" before. Not quite keen to listen to our playlists on repeat many of us turned to podcasts as a fresh source to keep us entertained or learning during our new busy routines.
Community and comfort
Whether you are a true crime nut, political fiend, looking for relationship advice or just want a laugh – there is a podcast out there for everyone. According to research by Demand Sage, as of February 2023 there were more than five million podcasts with over 70 million episodes globally.
I find, the best podcasts are ones where the hosts have started out of pure passion for a particular topic. It allows the listener to feel that they are eavesdropping on a conversation between friends, the shared enthusiasm for a topic develops a sense of loyalty and helps garner a community.
Locked up at home, whether we were alone or surrounded by people, there was a sense of isolation. The impact of COVID is not just felt on physical health but the emotional impact it had on the global population is nothing short of heart-breaking. Whether it was people starting their own podcast, finding comfort in a podcast community, the personal connection listeners felt with hosts or listening to self-help/positivity/mental health podcasts the escapism podcasts provided cannot be underestimated.
Mental health podcasts: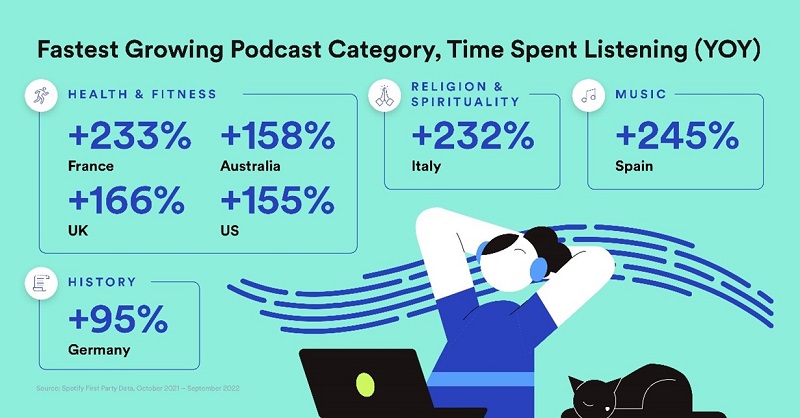 Audience Engagement During Covid
Covid, events, and podcasts
Since the pandemic began, companies have had to innovate new routes to market for their products, services, and alternative event deliveries.
We saw this in the switch to virtual events and webinar popularity. Once webinar fatigue set in and the pandemic went on, there was a need to deliver the event's purpose in other formats. As examined earlier, podcasts offered businesses the ability to engage in a way that is adaptable to a delegate's situation.
Over the past few years, we have seen podcasts utilised within events in the following ways:
Virtual event sessions recorded and uploaded as podcasts after being live streamed.
Used as part of an ongoing product launch.
Replacing the entire event and delivering the sessions or information via podcast.
Internal access only podcasts to provide training.
Used as a marketing tool to drive virtual event attendance.
Connecting during Covid
With a lack of in-person events (sports, corporate or otherwise) we saw new methods of audience engagement.
Live streaming
Live streaming proved to be a hugely popular format, with the industry seeing 99% growth between April 2019 and April 2020.
Pre-pandemic some podcasts might have hosted a live recording at an in-person event. During the pandemic producers and hosts were attracted to live streams as opposed to taking part in virtual events.
Live streaming as a business can be hugely beneficial to a brand because those presenting/hosting the stream and representing the brand will be seen as truthful and authentic. Should the livestream go well, you will see increased confidence in your brand.
Clubhouse
Another popular format to connect came in the form of the audio-only app, Clubhouse, and in 2020 we witnessed its viral app growth. In the space of eight months we saw an almost 40,000% increase in registered users: with 1,500 registered users in April/May 2020 to hosting 600,000 registered users in December 2020.
It is evident that Clubhouse tapped into the zeitgeist by combining the popularity of podcasts with live streaming.
Podcasts in Business
Advertising potential
According to Statista, podcast advertising spending is expected to increase steadily soon, with 2022 figures estimated at $1.73 billion. By 2024, these expenditures are forecast to surpass $2.5 billion.
Podcasters as influencers

Podcasters are influencers. They may only influence a small section of a specific audience but if that is the market you want to penetrate, brand deals with podcast hosts can be extremely useful. The community trust that personality and (nowadays) most influencers will not stand by a product/company/service that they do not believe in as they know their audience will see their inauthenticity. The loyalty and trust they have built with their audience reflect onto the brands they partner with.
When producing your own podcast, you are building that loyalty with the audience and directly influencing the sales funnel.
Paid advertising
There are two overarching types of podcast advertising in the form of advertisements and sponsorship:
Advertisements, like a radio or television ad, a brand can pay to have a certain amount of time where either the host/s read a scripted advert about the brand, or an audio advert is played.
Sponsorship, where sponsors pay based on how many downloads your podcast gets, (usually in increments of 1,000) and sponsors will tend to be the only advertiser on the episode or even the podcast series.

The Megaphone by Spotify report discovered that:
Podcast listening skyrockets in Southern Europe as downloads grew 38% globally.
The core demo of podcast listeners expands as podcasts have been most popular among people aged 25-54. However, across Spotify, the highest growth in unique listeners was among people aged 13-17 and 55+.
Listeners turn to podcasts in their quest towards physical and mental health.
As podcast audiences evolve, so too are the ways of listening as listeners continue to prefer mobile devices, accounting for 91% of time spent across Spotify.
New advertiser categories help to drive increased investment in the podcast space. Industry-wide, advertisers saw an average conversion rate of 1.28% from their podcast campaigns, with pre-roll as the most effective placement.
What Can Podcasts Do for You and Your Company?
So, what do businesses stand to gain from producing a podcast, and what does a podcast offer that other activities do not?
Direct marketing

Podcasts offer businesses the opportunity to communicate directly to their audience in a new and flexible format. Episode themes and audience targeting can be as precise as you decide.
Brand personality
Much akin to social media, podcasts are a piece of marketing real estate with relatively few limitations – a true space for your brand to express what and who it is in its purest form. Demonstrating your brand's personality and the personalities that work there.
This can be especially beneficial for a company operating a B2B service built around the relationships with clients. Demonstrating their employee's expertise and building their profile through a podcast can be incredibly effective.
Data Collection
Podcasting offers businesses yet more opportunity for data collection which can help the sales teams to get their foot in the door with new prospects, build on pre-existing relationships and re-establish old partnerships. Remember your podcast can be as accessible and readily available as you want it to be! Meaning that a podcast campaign can be as specific.
Changing Landscape of the Office
Over the last 18 months we have seen a permanent shift in the way we work. Internal podcasts can be utilised as a more interactive and personable format to get to know your brand or as a training guide for new starters.
The Future of Podcasts
To summarise, there are no signs of podcast popularity halting anytime soon. According to Reuters Institute's data, it was estimated that in 2022, 38% of the US population older listened to a podcast on a monthly basis.
What can be done with a podcast? The sky and your imagination truly are the limit.
How We Can Help
Outsourced Engagement offers a podcast service. Over the past year we have delivered several podcast series for our clients with fantastic results. Podcasts have been utilised both to communicate with an audience and in conjunction with events as a marketing tool.
Read our Dell Technologies success story: A Podcast Series
Ready to take your podcast to the next level? Our team of experts is here to help. Don't wait – reach out to us today at info@outsourcedengagement.com for tailored advice and support. We're always here to answer your questions and help you succeed. Let's get started!
Our Latest Knowledge & Insights