Knowledge & Insights
How to put on a Corporate Event in London
If you're planning to put on a corporate event in London, then the good news is that you've chosen one of the most exciting, vibrant and business-friendly cities in the world. Replete with incredible venues, iconic landmarks and buildings, just being in London can set your event apart from the competition outside of the capital.
The slightly less good news is that putting on an event in London is more expensive, competitive and poses more challenges than other cities. Planning way ahead is essential, but with a good event agency like Outsourced Events on your side, there's no need to panic. (Not yet, anyway!)
Here's our handy London event guide to get you started.
Why Hold an Event in London?
London is a global business hub and a major destination for business travel and events, with excellent infrastructure and facilities. It is also a brand in its own right. Despite the obvious uncertainty created by Brexit, business leaders from across the world continue to come in their droves to the city, and the corporate event industry is booming.
It's a big city - Greater London is composed of 32 boroughs and the City of London - with a well-connected public transportation system, including the extensive London Underground network. The Elizabeth Line train service opened in 2022 and now crosses the city, connecting Heathrow Airport, the West End, Liverpool Street, and Canary Wharf.
In addition to the prestige of hosting a corporate event in London, there is a vast choice of fantastic venues - from historic through to purpose-built. The cachet and relevance of hosting a business event at the heart of the UK's economy (the sixth biggest in the world), reflects the proximity of being at the heart of such a huge business hub. Many of the biggest global businesses in the world are headquartered in London, with a huge number of smaller but hugely influential businesses also based here.
London's formula for success also includes the other huge attractions on offer: 
Iconic sights and attractions
Superb accommodation
Best-in-class suppliers
Excellent public transport links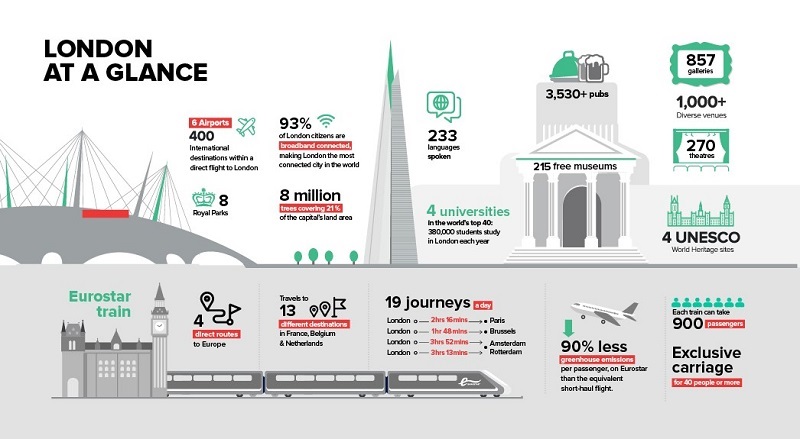 Source: London Convention Bureau
You can find out more about the venues and resources available by looking at the London Event Planner Toolkit. 
Budget and Finances
London events can be expensive, so it's vital to manage your money well. Set a clear budget and liaise with contractors early on to get a sense of costs. You'll need to consider licensing, insurance, equipment hire, venue hire, refreshments, speakers and entertainment, staffing, and other items needed on the day. Define the income you expect to generate from the event, with different levels of attendance to reflect your confidence level.
Offset this against the costs, with a margin if you need the event to be profit-making. Work with your business finance team to define the financial administration processes, which could include opening up a stand-alone business account, tracking and receipting all transactions, keeping a petty cash box and keeping a detailed record of all income and expenditure.
Make sure you define how any financial loss from the event will be handled and how profit will be used. For a large corporate event, you will want to carefully record all this information and make it available to all stakeholders, helping to ensure everyone financially involved is up to speed and happy to invest in your next event.
Licencing and Permissions
Some London events will require licences and this will depend on what you are planning to do at the event. For most events, a Temporary Event Notice (TEN) or Premises Licence will be sufficient. Most venues already hold this so double check.
The other most common license requirement is the Licensing Act 2003, which covers alcohol sales and late-night refreshments.
Other licences include PRS for music and street collections. Speak to the venue to find out which licenses they hold and to get a sense as to what is likely to be required. You should also contact the local London borough council to find out more.
You may also need to get permission from the landowner if you're looking to put on an outdoor event in London. Public land is controlled through the relevant local authority and includes areas such as commons and parks. Contact the borough's parks and green spaces department to find out more. Private land must have permission granted by the private land owner. If it is difficult to track down the owner, try the Land Registry.
Health and Safety
When you invite attendees to a corporate event, you are responsible for their safety, potentially along with the land or property owner and any professional events agency that you have commissioned to deliver or co-deliver the event. Your duty of care extends to areas that include fire risk, food hygiene, and welfare. You must carry out a risk assessment beforehand with your London venue contact.
Every event should have a named and competent individual who will take on responsibility for health and safety at the event, and you must have processes and paperwork in place so that your local authority can review them if an incident does occur. You can find out more at the Health and Safety Executive (HSE) website.
With these areas covered as your starting point, you will be well on the way to planning an event to remember. You can then move on to sourcing a venue, writing requests for proposals, planning your event marketing and booking speakers and other suppliers.
If you need some ideas or would like to ask us how we can help deliver your next corporate event in London, please reach out to Outsourced Events on +44 (0) 330 460 6007 or email us today.
Our Latest Knowledge & Insights