Knowledge & Insights
Events and Sustainability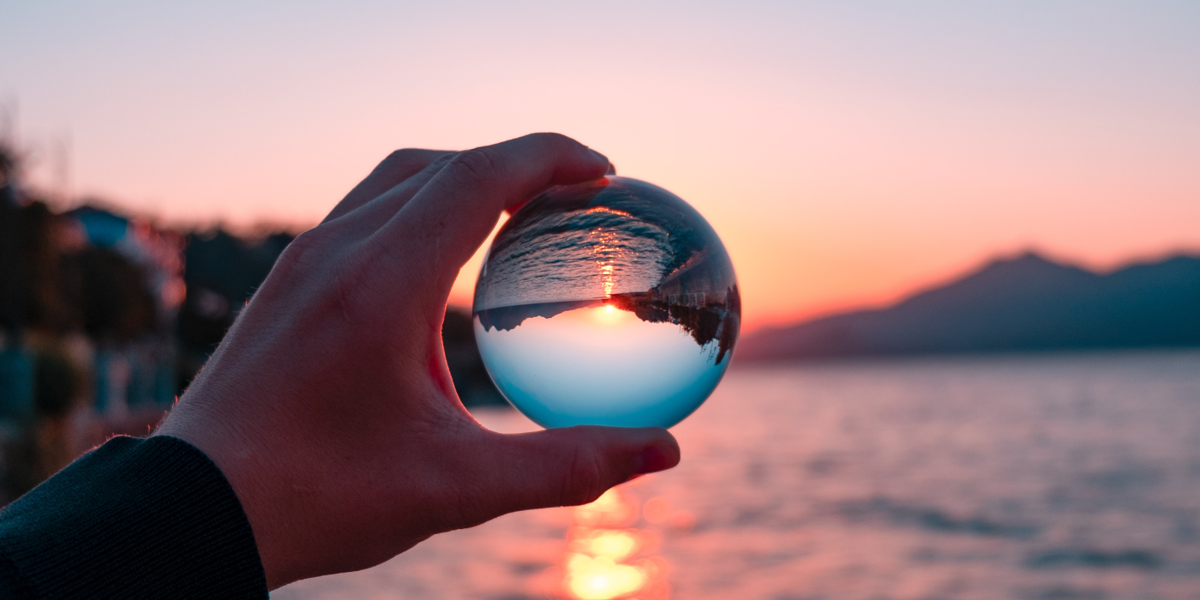 Sustainability is good for the planet and good for business. As event planners and hosts we should be looking for ways to maximise our positive impact on the environment, community, and economy. Adopting sustainable practices, whether large or small, can have significant impacts in the long run.
A SkiftX study found that the push for sustainable practices — including environmental sensitivity as well as a drive to make meetings more inclusive, more engaging, and more interesting for new generations of attendees — is the foremost challenge for venues and planners alike.
By putting sustainability front and centre, event planners can minimise the sector's impact on the environment. Think about tailoring components of your events to meet specific objectives related to conservation, recycling, sustainable procurement, and attendee engagement. For example, you could incorporate sustainability initiatives into team-building exercises.
What is Sustainability?
"Sustainability means meeting our own needs without compromising the ability of future generations to meet their own needs. Essentially, not leaving the world in a worse state than we found it in. In addition to natural resources, we also need social and economic resources. Sustainability is not just environmentalism. Embedded in most definitions of sustainability we also find concerns for social equity and economic development." - McGill University 
Why Does Sustainability Matter?
The Event Industry Council (EIC) estimates that the average conference attendee generates 1.89 kg of waste per day, much of which can be recycled, composted, or donated. By implementing waste reduction strategies, we can significantly reduce the environmental impact of events.
According to a study by MeetGreen sustainable event management company, the average conference attendee generates 177 kg of carbon dioxide (CO2) per day. CO2 is one of the most important greenhouse gases linked to global warming. By implementing sustainable practices you could reduce these carbon emissions by around 24%.
At Outsourced Events we have been considering issues around sustainability and events for a long time – see our blog post, "Events and Sustainability: More Than a Gimmick" for tips on how to build sustainable practices into your activities.
A study in Nature Communications found that moving from in-person to virtual events can reduce the carbon footprint by 94% and reduce energy use by 90%. Researchers also found that hybrid events have the potential to slash carbon footprint and energy use by two-thirds.
The Green Venue Report from the Green Meetings Industry Council, found that 60% of event organisers surveyed in North America report that sustainability is now a key consideration when selecting event venues.
A study by the United Nations Environment Programme (UNEP) found that "the adoption of sustainable practices in the events industry can lead to significant cost savings, as well as environmental benefits". For example, by reducing energy consumption and waste, events can save on utilities and disposal fees.
Making Events Sustainable
Here are some measures the event industry is taking to become more sustainable and reduce its environmental impact.
Sustainable event planning
Event planners are adopting sustainable event planning practices such as reducing paper use and using digital registration. Many are building sustainability into their supply chain by choosing suppliers who are committed to sustainable working practices.
Lower carbon catering options
These range from choosing seasonal, locally sourced produce to substituting plant-based options for meat and fish. Using smaller plates helps reduce food waste. Eliminating single-use plastics and individual sachets of condiments also reduces waste and carbon footprint.
Renewable energy
Events are increasingly powered by renewable energy such as solar, wind, or hydro power.
Waste reduction
Waste reduction is a key focus of sustainable event planning. Recycling, composting, and reducing single-use plastic is becoming more common. Here are some useful tips from the EIC.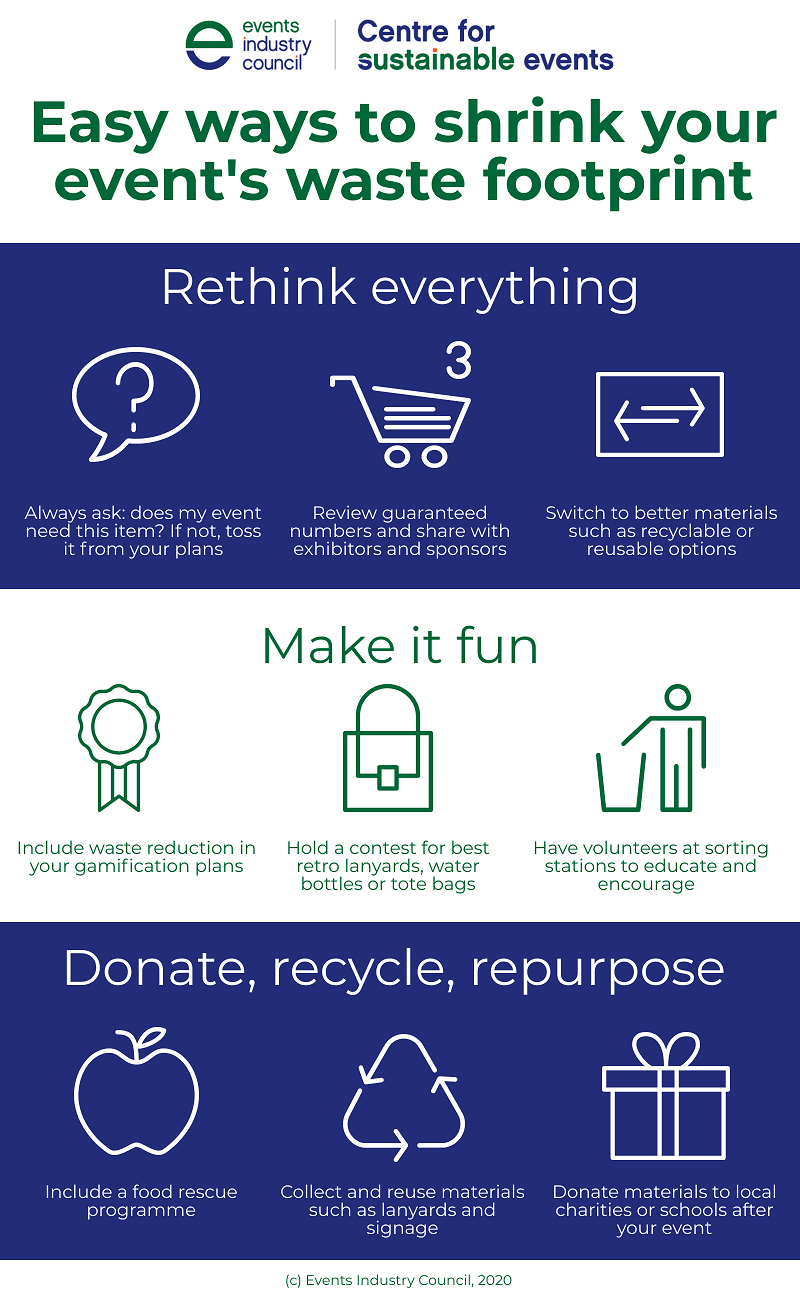 Sustainable sourcing
Event planners are selecting sustainable materials and products such as eco-friendly badging, decorations, signage, furniture, and lighting. They are increasingly turning to options that can be donated, reused, repurposed, or recycled.
Think local - cut the carbon footprint by using local suppliers as much as you can.
Green transportation
Attendees are being encouraged to use public transportation, bicycles, or walk to reduce carbon emissions. Think carefully when choosing a venue – does it have good public transport links? Where are your attendees travelling from, and how will they get there?
You can encourage lift-sharing and arrange shuttles from transport hubs. Once at the venue, you can encourage attendees to walk or cycle around the location.
Venue selection
Many venues now have green certifications and are environmentally friendly, such as those with LEED certifications. Most of the largest hotel companies have now set or submitted science-based targets to reduce their greenhouse gas emissions.
You can find out more about this in the Skift Research report, Progress in Sustainability: Hotel Company Analysis 2023.
Sustainable swag
Is your promotional merch going straight to landfill? Possibly. Research by the Advertising Specialty Institute  found that almost one quarter of items are thrown away, with only 21% being kept for any length of time.
Focus your mind and budget on items that are useful, and which attendees will re-use over and over: t-shirts, travel mugs, notebooks, charging cables.
You could even choose to give away plantable pencils instead of pens. These wooden pencils have wildflower seeds in the end. When you've used up the pencil you can plant the stub in the ground.
Carbon reduction and offset
A study in Nature Communications found that moving from in-person to virtual events can reduce the carbon footprint by 94% and reduce energy use by 90%. Researchers also found that hybrid events have the potential to slash carbon footprint and energy use by two-thirds.
Some emissions, however, are impossible to avoid. The impact can be mitigated through carbon offsets and funding greenhouse gas and renewable energy projects that reduce greenhouse gases.
Evaluate impact
Sustainably produced events can inspire and motivate others to action. Consider issuing a post-event impact statement including lessons learned and trackable metrics for elements such as energy usage, water consumption, and recycling rate.
In Conclusion
Overall, the events industry is becoming more conscious of its environmental impact and taking steps to become more sustainable. By adopting sustainable practices, the industry can reduce its environmental footprint while still providing engaging and memorable experiences for attendees.
As we've shown, sustainable event planning can lead to significant reductions in waste and carbon emissions, while also saving costs and promoting environmental stewardship.
The Outsourced Events team has more than 20 years' experience in global event management. To find out how we can help you make your next event sustainable and successful, call us today on +44 (0)330 460 6007 or email us info@outsourcedevents.com.