Knowledge & Insights
From Standing Desks to Virtual Reality: How we are Adapting to the New Event Industry
The year 2020 has been one of challenge and change globally. As a company we have swiftly adapted to working from home and running events completely virtually, but these are not the only changes we have seen. This article explores some of the changes to the working landscape now and foreseeably, and shares some of the trends that we are seeing whilst reviewing some solutions to the virtual event dilemmas experienced by many.
What Does the Future Working Landscape Look Like?
Outsourced Events was founded` more than 19 years ago and one of our first clients was Citrix Systems, the market leaders in virtual workplace software. Working with Citrix we have watched the working landscape evolve. In the early years everyone would commute into a city HQ or regional office, but over the last five years we have seen a big change with staff being offered the opportunity to work from home, sometimes on a weekly basis. However, there was still some reluctance from many organisations to fully embrace virtual working for their teams, but the pandemic has changed this. COVID-19 has forced us to work from our studies, kitchens, living rooms and even our bedrooms, but it is human adaptability and technology that will allow companies to give their employees the flexibility to remain at home, finding the best workspace for each company.  
In June, Gartner approached 127 company leaders to understand their thoughts on what flexibility they would offer their teams when they reopened their offices. The survey revealed that 82% would let employees work remotely some of the time and 47% would allow employees to work from home all of the time. Previous reservations regarding employee productivity have been challenged, the results of the survey demonstrate leaders are beginning to see that virtual working indeed, may benefit employees to be more engaged as their work-life balance improves.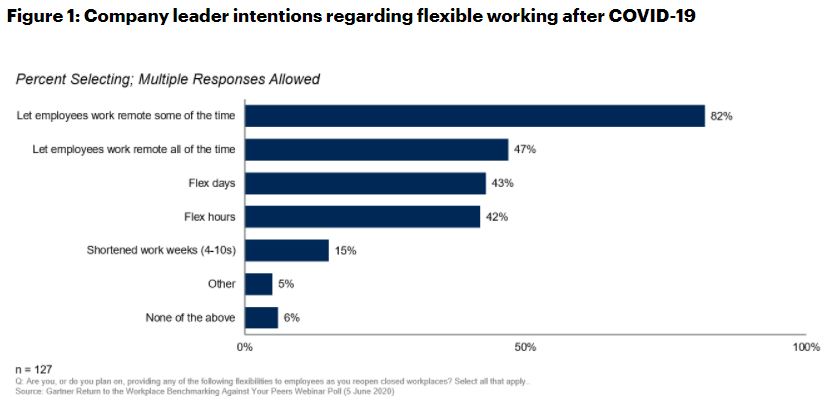 As an agency, the pandemic is also challenging us to think differently and adapt to this "new norm". We are seeing the boundary between workspace and home life become increasingly blurred. We, therefore, believe business audiences are starting to behave more like consumers, and that marketers need to adapt their strategies accordingly.
This Year We Have Seen Three Trends Across Our Client Pool
Using new techniques to combat webinar fatigue.
Difficulty generating new leads and not over-working pre-existing customers.
The benefits of community groups.
Webinar Fatigue and Innovation
This year Collins English Dictionary named 'lockdown' as its word of the year. It has become part of our daily vocabulary. One of the trigger phrases this year for the events industry is 'webinar fatigue'. After the initial highs at the start of the March lockdown, attendance levels across the events industry are now dropping despite audiences being hungry to learn. The solution?  Snackable, bite-sized content and maximizing the delegate journey.
With this in mind, we have taken a fresh approach with a number of our clients to engage with their audiences via alternative channels typically used for consumer marketing. We think these lend themselves really well to working from home.
Podcasts
In December 2019, a survey by the Reuters Institute for the Study of Journalism shed some interesting light on the growth of one particular media associated primarily with consumers - podcasting. The survey showed a marked increase in podcast consumption in 2019 with the number of new podcasts increasing by 32% between January and October.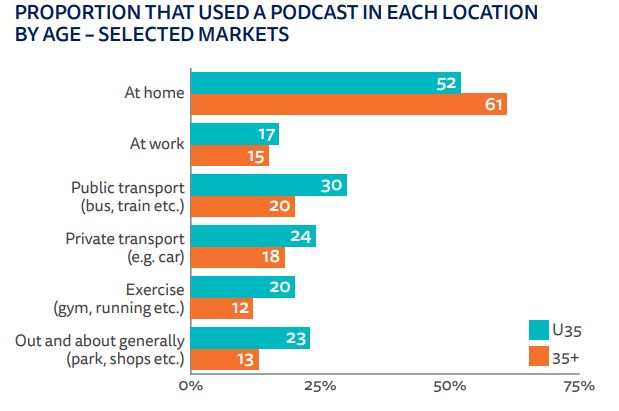 The continuous growth of podcast popularity can be seen again in the 2020 Reuters Institute Digital News Report. This found that 50% of all respondents say that 'podcasts provide more in depth and understanding than other types of media'. The 2020 report also found that 31% of respondents access podcasts monthly, up 2% from 2019.
Podcast Potential
In April, Marketing Week published an article highlighting the untapped potential of podcasts from an advertising perspective. It predicted revenue growths for podcast advertising from $402 million in 2018 to $650 million+ in 2020 – an increase of more than 50%! As more teams continue to work remotely, we see that podcasting will become an increasingly popular media for the consumption of bite-sized thought leadership content.
We have highlighted how podcasts as a media can be used to combat webinar fatigue, but this is one of many solutions that you could employ to reduce webinar fatigue including:
Postal campaigns, in particular those that incorporate new and innovative ideas that really engage.
Employing the use of augmented reality in the event invitation process.
Running postal campaigns and/or merchandise giveaways alongside webinars and virtual event series.
Account-based Marketing and Account Growth
Face-to-face interaction has always been a key part of events and customer engagement - as humans we all respond a lot better to a physical interaction as opposed to a face on a screen. This has provided problems particularly for sales teams, such as:
Virtual tradeshows not delivering the same volume of prospects that live events create due to the lack of chance conversations.
Many platforms being hard to navigate making it harder as a salesperson to make connections, so the sales team now has to work harder on the virtual platforms to engage with the audience and strike up a conversation.
More difficult to target net-new prospects, leading companies to worry that they are over-working existing customers and prospect bases.
Diverse Engagement
The Outsourced Events team has found multiple ways of combatting these particular concerns when companies exhibit or sponsor events. One tool that can be used in assist when driving prospects to your booth, and the power of which cannot be underestimated, is the power of thought-leadership and having new and/or relevant content readily available and featured on your stand, on your website, as part of your sales toolkit and on your social media. As an exhibitor we had a very positive experience at The Meetings Show recently, developing prospects from our own thought-leadership pieces. 
In terms of over-working existing customers, we find that virtual catch-ups with smaller group engagements are producing great results. With a wide range of fun and hospitality-focused activities to choose from, the normal network chat can still take place in a soft sell environment.
To read more about these please read our article Sommeliers, Salesmen and Software: Account-based Marketing in the Virtual Sphere. While our ability to catch up face-to-face over lunch with a client has been put on pause, remote workers still feel the need to engage, and these are great alternatives.
The Benefits of Business Communities
At a time where many are feeling isolated, we have found that business communities are more active than ever, importantly for companies, communities drive better conversations through peer-to-peer networking.
We have been running the UK Citrix User Group membership for 10 years now as an independent body of Citrix Users. It has around 1,500 members and is completely self-funded through sponsorship. There are four meetings run usually in person per year – two regional and two centrally located. We have had to pivot to virtual for the last two events and the results have been outstanding. To read about translating community events to the virtual world, please visit our Case Study.
Summary
To summarise, remote working is not just a COVID-19 phase. It is here to stay, and we need to be able to adapt our marketing strategies to fit in with this new environment. Building communities and engaging with customers are key to driving long-term relationships and account growth. Audiences are craving thought-leadership content – and they want this to be in bite-sized, snackable chunks that fit with their new working environment.
If you would like to discuss anything mentioned in the article, or need assistance with an event, please don'tt hesitate to get in contact with a member of the Outsourced Events team: call us on +44 (0)330 460 6007 or  email us today.
Our Latest Knowledge & Insights