Case Studies & Testimonials
Muzinich Annual Corporate Credit Conference
Following the Muzinich virtual client conference in November 2020, Outsourced Events (OE) were invited to work with them again, this time to host a focused two-hour virtual conference in June 2021.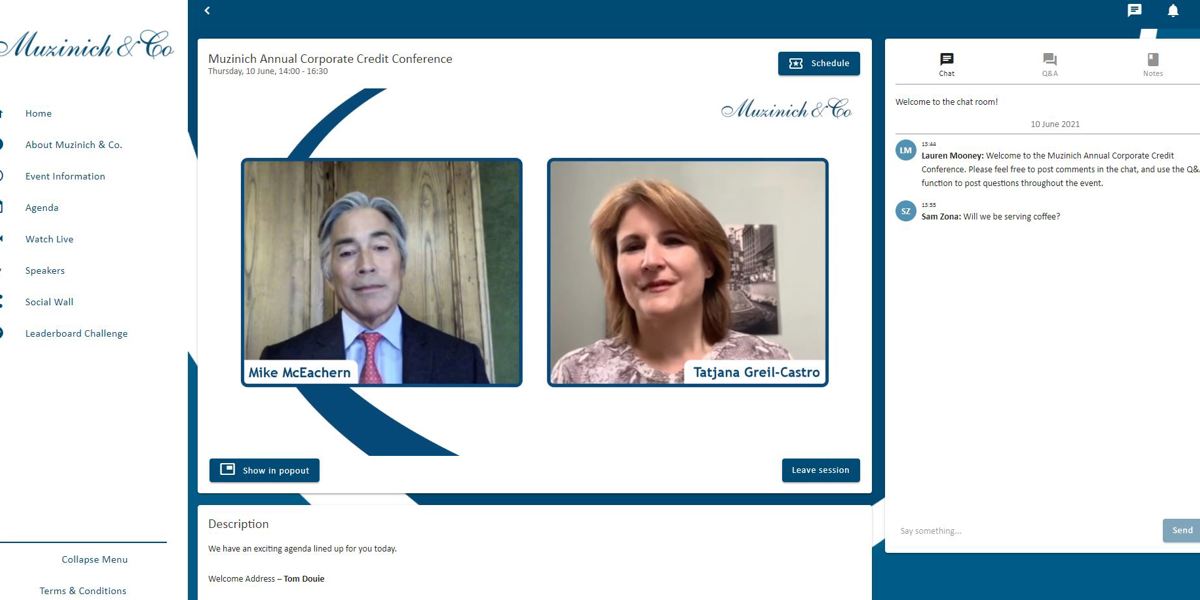 Our Services
Project planning and weekly calls
Budgeting
Virtual event platform evaluation
Full technical production and live streaming
Speaker management
Virtual helpdesk
Gamification
Full platform configuration
Highlights
Global speakers
Excellent rates of engagement
High attendance
Following the Muzinich virtual client conference in November 2020, Outsourced Events (OE) were asked to work with them again, this time to host a focused two-hour virtual conference in June 2021. The event was attended by their client base from across Europe and the USA.
The Brief
The event was to have one single stream and seven speakers based across the UK, US, and Singapore.
Given the superb event branding and overall look achieved for the November 2020 conference, it was important to Muzinich for this virtual event to look equally professional and smart. Branding was key!
Our Approach
As with any project, whether it be a face-to-face event or virtual, the keys to success are detail and planning. We provided full pre-event planning and agenda support. Upon appointment, we invited the event's key stakeholders to a kick-off call with the OE team to review the timeline, key milestones, and roles and responsibilities for the project.
Following this, the OE team created a project plan covering all elements of the event and actions needed within a task management tool, to which Muzinich also had access and were able to monitor and update progress alongside the OE team. Our team then worked closely, as an extension to the Muzinich team, to deliver against the detailed project plan.
Given the importance of the branding elements, we reviewed a number of platforms and recommended two options, from which CrowdComms was selected. OE wholly owned the relationship with CrowdComms and were responsible for the platform's configuration and content upload. Working within Muzinich's brand guidelines we produced and uploaded all branding to the platform.
Additionally, we provided session and Q&A moderation, general platform assistance, troubleshooting, registration management, technical support, and managed the production timeline and coordination of deadlines.
Prior to the event the team liaised with, briefed, and provided training to moderators and the client team. We managed the speakers ensuring a smooth event.
On The Day Support
Having completed all the planning, during the live event day we were responsible for the technical show flow, the management of all technical production aspects, delegate engagement, the set up and management of live polling questions as well as seeding questions within live Q&A to ensure there was a prompt for attendees to ask questions.
To ensure a seamless and professional broadcast, despite speakers being in various locations on the day, we worked closely with our production team to mix all live production suite feeds from the speaker locations (whether that be Muzinich offices or the speakers' own homes). We also added lower thirds and graphic overlays to ensure a smart and professional look and feel to all the sessions.
Similarly to the November event, we created a 'virtual green room' enabling the speakers and the technical production team to speak in advance of their live presentation and make certain all aspects were ready to go before 'counting in' each presenter.
To drive audience engagement, we made use of a number of the networking features offered through the platform, as well as gamification. We also provided full post-event reporting of analytics.
Outcome
The event was considered a huge success with good attendance, highly topical speakers, and great engagement through the Q&A. So much so, we were delighted to have been appointed once again for their next virtual event in September 2021 with an in-person event to follow in due course.
For anyone considering a similar event, a key piece of advice is to ensure that you promote the event well through all your social, communications, and sales channels and build a thorough e-comms plan as we did.
About The Client
Muzinich & Co. is a privately-owned, institutionally focused investment firm specialising in public and private corporate credit.
Contact
To find out more about virtual, in-person or hybrid event organisation from Outsourced Events, speak to Denise Sharpe on +44 (0)330 460 6007 or email info@outsourcedevents.com