Case Studies & Testimonials
LexisNexis Risk Solutions Trust: Live
LexisNexis Risk Solutions have been working with Outsourced Events since 2018.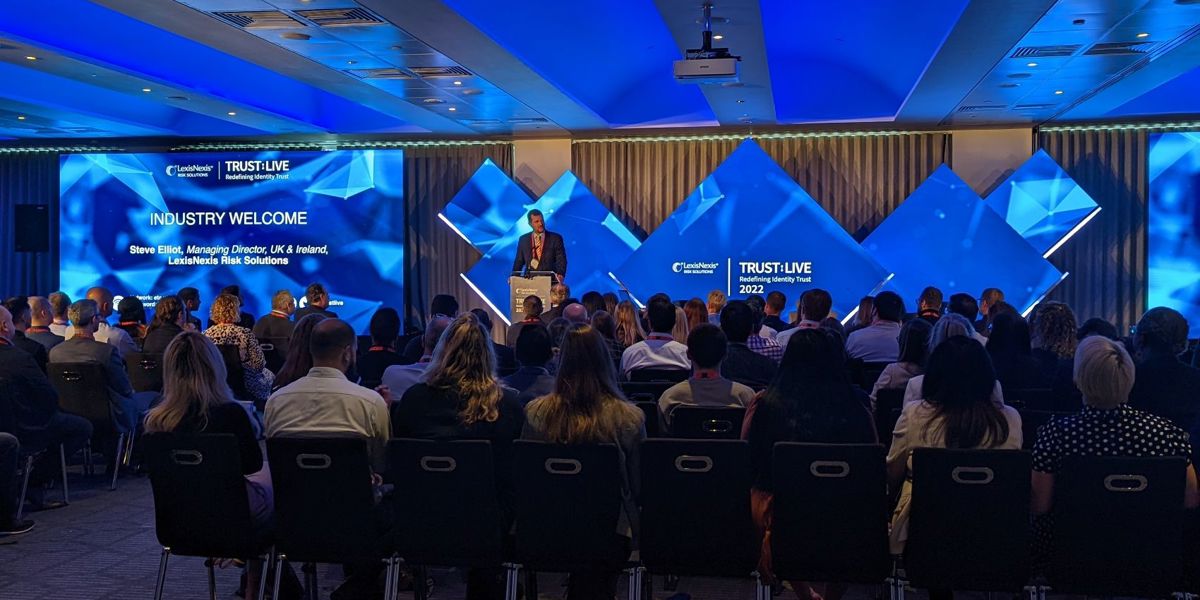 LexisNexis Risk Solutions have been working with Outsourced Events since 2018. For this big budget event, Outsourced Events was appointed to provide end-to-end event management.
LexisNexis Risk Solutions asked the Outsourced Events (OE) team to consult on and manage the delivery of a paid-for corporate event management project for 200+ delegates. 
Our Services:
Budget management
Venue sourcing
Registration
Event branding throughout
Production and AV coordination
Event logistics
First point of contact for suppliers
Closing reception planning
End-to-end lead retrieval
Onsite support
Giveaway sourcing
Post event reporting
Brief
A high value event, the objective was to create an industry event that was compelling, creative and interactive. OE was asked to make recommendations on venue and branding to deliver their high-calibre event, and to manage it from start to finish.
What
Cosmopolitan London was the setting for the delegates. Planned to every last detail, OE set about creating an event that was both high-impact and memorable. 
We needed a venue that had the ability to serve high tech events with state-of-the-art AV systems while providing multiple branding opportunities through multi screens and digital signage. OE's strong relationship with Etc. Venues, led us to recommend 155 Bishopsgate. 155 Bishopsgate is a stylish and contemporary venue that ticked all the boxes, located minutes from Liverpool Street station: this was perfect for the aesthetic LexisNexis Risk Solutions were trying to create. 
A single stream event that focussed on the delegate journey, an engaging user experience (ux) from the moment they walked through the doors. The UX was both visually engaging and offered valuable content, each touchpoint was carefully considered. OE ensured the LexisNexis Risk Solutions brand stood out, with a well branded registration desk, impactful signage, and big screens. High-calibre speakers and a well-executed closing reception ensured delegates were kept entertained and enraptured from start to finish. The closing reception included entertainment from a guitar player and singer. The event was a success.
How
As with any corporate event, the success comes down to meticulous planning. Overseeing and managing every aspect from venue find, to delegate and speaker liaison, entertainment souring, registration and all logistics, Outsourced Events ensured they understood the goals of the event, the LexisNexis Risk Solutions culture and delivered a great event that was smart and sleek. Small touches enhanced the experience, with giveaways that included branded Rubix cubes, gummy bears, baseball caps and tote bags. 
The outcome
With an experienced team, careful planning, strong supplier relationships and by working consultatively with LexisNexis Risk Solutions, OE were able to deliver an exceptional event that received positive feedback from both the LexisNexis Risk Solutions team and delegates alike. OE has continued to work with LexisNexis Risk Solutions on several projects. 
About the client
LexisNexis Risk Solutions is a leader in providing essential information to help customers across industry and government assess, predict and manage risk. They are part of LexisNexis Risk Solutions Group, a portfolio of brands that span multiple industries providing customers with innovative technologies, information-based analytics and decision tools and data services. Outsourced Events has been supporting
To find out more about virtual, in-person or hybrid event organisation from Outsourced Events, speak to Denise Sharpe on +44 (0)330 460 6007 or email us.